So you want to know how to be a porn star? Every day hundreds of people are considering becoming a porn star. Some actually reach out to other porn stars and ask them how. Most of the time they found those inquiries go unanswered. you'd be surprised how many times in a given week someone asks a porn star that question.
So what is a person to do if they are serious about learning what it takes to become a porn star? Well you have come to the right place. Here you will learn everything you ever needed to know about how to become a porn star.
There is no charge for anything. There is nothing for you to buy. Everything you'll find here is 100% free. It's important that you understand some people out there really do charge you for advice. That's not what this site is about.
I've been around for a long time and I know how it all works. I've worked with porn stars, agents, directors, productions, distributors and studios. I'm going to share everything with you – all for free.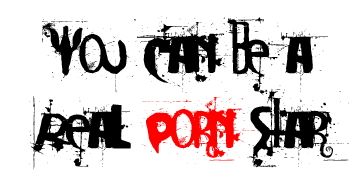 Do you want to know how to be a porn star? Great! I want to help you do just that. If you want to be a porn star (male or female), I want to help you achieve that goal!
First let me tell you a little bit about myself. My name is Kelli Roberts and I started in the adult industry in August of 1996. In that time I've worked with companies like Cezar Capone, Bluebird Films, Amateur District, Porn Authority, The Candy Shop, pornstar.com, Gamelink, AdultDVD.com, and more. If you don't already follow me on twitter you can do so @MissKelliXXX.
Let's just say I've been around a long, long time. I guess it's going on 20 years now. I started in August of 1996 and I'm still around two decades later! Learn from my experience. If you want to know how to be a porn star, then let me teach you what it takes.
While my specialty has always been marketing — over the years I've ventured into other things like making my own movies (check out Hocus Pocus XXX), porn star advocacy and booking girls for live shows. In the last 19 years there really isn't much I haven't done. Hell, I've even wrote a book or two which you can find at Amazon.
But out of all the things I do, what I enjoy most is helping people. I often find myself helping porn stars with their own websites, or other technical issues they have.
Now I've teamed up with some porn star friends of mine to come up with a guide to help you become a porn star.
I'll teach you everything you need to know and then help you by getting you an agent. How great is that? An agent won't accept you unless he (or she) knows that can book you for scenes. So once you have your agent you are officially on your way!